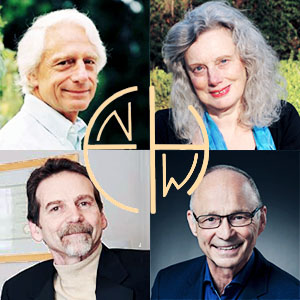 Four Masters, Four Approaches: An Exploration of Existential Theory and Practice
Four Masters, Four Approaches:  An Exploration of Existential Theory and Practice.
Friday – Sunday, Sept. 24th – 26th, 2021 PDT
We are excited to announce that for the first time, the four contemporary leaders of the four major existential psychotherapy schools of thought will come together and present their specific theories and approaches, followed by a live demonstration of how they work with a volunteer.  The conference will conclude with a panel of all four presenters.
Over the course of the three days, participants will be able to experience the work of these four masters:
Emmy van Deurzen, PhD presents on Existential-Phenomenological Therapy
Erik Craig, PhD presents on Daseinsanalysis
Alfried Längle, MD, PhD presents on Logotherapy and Existential Analysis
Kirk Schneider, PhD presents on Existential-Humanistic and Existential-Integrative Therapy
Sunday Panel of all four Masters moderated by Bob Edelstein
Tickets:  All tickets include the panel presentation and access to the panel video after the conference. You can select the full weekend ticket to attend all four individual presentations or buy a ticket to attend a single presentation. Following the event you will receive access to view recordings of the presentations that correspond to your ticket purchase (e.g., a full weekend ticket will have access to all four presentations, whereas an individual ticket may only access that presentation and panel).
Pricing:  Tickets are divided between Professionals and Students. EHNW Affiliate members in either group are eligible for discounted pricing.  Become an Affiliate!
Early Registration Pricing: Purchase your ticket by midnight July 31st PDT to receive an Early Registration Discount.
CEUs: Up to 14 CEUs approved through NASW-Oregon chapter
Interpretation: Spanish interpretation will be available for any attendee who wishes to participate in Spanish.
International Tickets (Now Economic Equalizing Ticket): It was brought to our attention that the pricing of tickets is not equitable around the world. We have created a ticket for Mexico, Central America, and South America.
Economic Equalizing Professional Ticket: This ticket is meant for professional individuals who can not afford the conference due to economic inequalities anywhere in the world. The International Ticket has been rolled into this ticket to be more inclusive.
Hourly Schedule
Friday - Sept. 24th, 2021
9 am

-

12:15 pm PDT

Emmy van Deurzen

Existential-Phenomenological Therapy
1:45 pm

-

5 pm PDT

Erik Craig

Daseinsanalysis
Saturday - Sept. 25th, 2021
9 am

-

12:15 pm PDT

Alfried Längle

Logotherapy and Existential Analysis
1:45 pm

-

5 pm PDT

Kirk Schneider

Existential-Humanistic and Existential-Integrative Therapy
Sunday - Sept. 26th, 2021
10 am

-

12 pm PDT

Panel Presentation

All four presenters moderated by Bob Edelstein